Villas, hotels, wellness centres, holiday homes
UA swimming pool for enjoying unforgettable moments, in private and in public settings: with its EVO_2/ETM system, Mirage® has thought of absolutely everything, developing a swimming pool system that transforms aesthetic and functional needs into optimal, custom solutions.
To make each pool perfect in every way, Mirage® has engineered infinite solutions for inner linings. In addition to the wide EVO_2/ETM range, the bottom and inner walls of the pool can also be covered in both 9 mm thick porcelain stoneware and 6 mm thick slabs. Quality, safety and full freedom of expression, with the many effects available (stone, wood and concrete) and the material continuity offered by Mirage's large slabs.

EVO_2/ETM is the complete system of floors and special pieces designed for external public and residential spaces, in the gardening and pool world.
360° outdoor design, because using only porcelain stoneware, the EVO_2/ETM solutions for the swimming pool world are perfectly coordinated with the surrounding elements. A synergy of appearance and high technical performance, responding to every design need.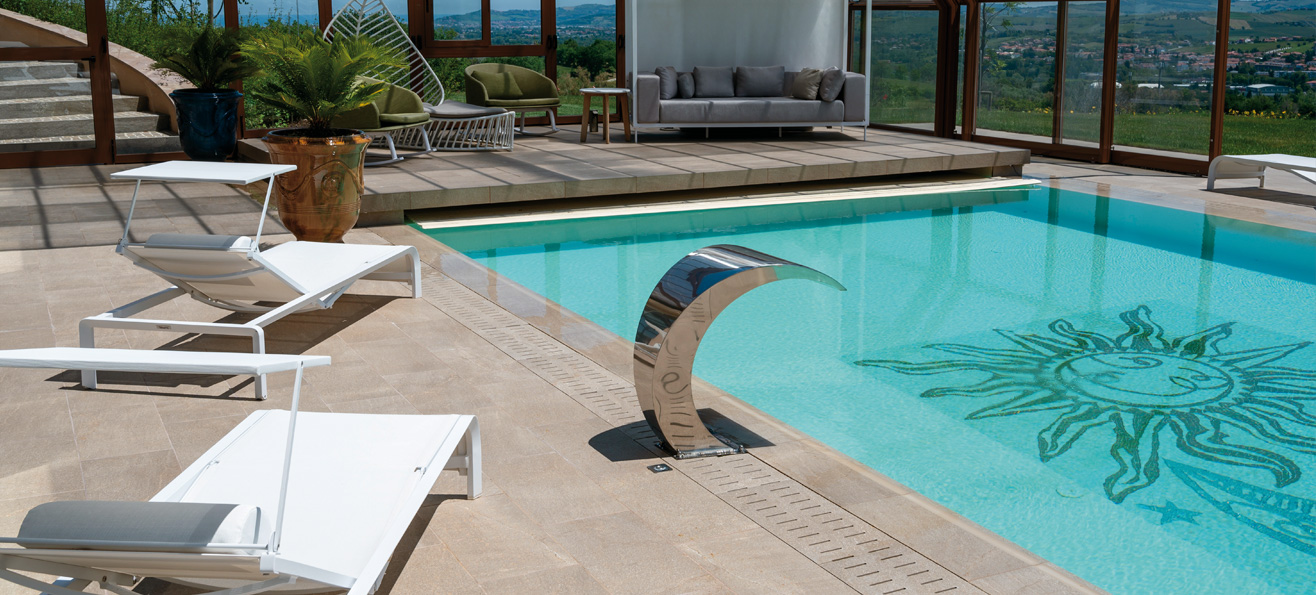 Mirage® porcelain stoneware is the ideal choice for your swimming pool.
A blend of style research and excellent performance, this exceptionally hard material absorbs practically nothing.

Why Mirage® porcelain stoneware? All the advantages of a unique material.
IT IS SAFE
Because it is by nature inhospitable to bacteria, mould, fungi and all kinds of allergens.
IT DOESN'T CHANGE COLOUR
Because it is fully resistant to frost, sun, mould, and requires no treatment. Washable also with a high pressure washer.
IT IS NON-SLIP
Because it has textured surfaces which can be walked on in total safety even when wet.
IT DOES NOT DETERIORATE
Because EVO_2/ETM is resistant to water, rain, chlorine and saline water in salt-water pools.
SUITABLE FOR FULLY SUBMERGED STAIRS
(Only for EVO_2/ETM collections with A+B+C slip resistance).
IT IS ECOLOGICAL
Because it has no chemical waterproofing agents, paints or resins, and is manufactured in full respect of the environment.
SRI FROM 60% TO 80%
Some colours have a solar reflectance index of between 60% and 80%, which means that the material has low heat absorption.
* SRI (Solar lndex Reflection)
The SRI is a calculation method using solar reflectance and thermal emittance values to determine the material's capacity to refuse solar heat.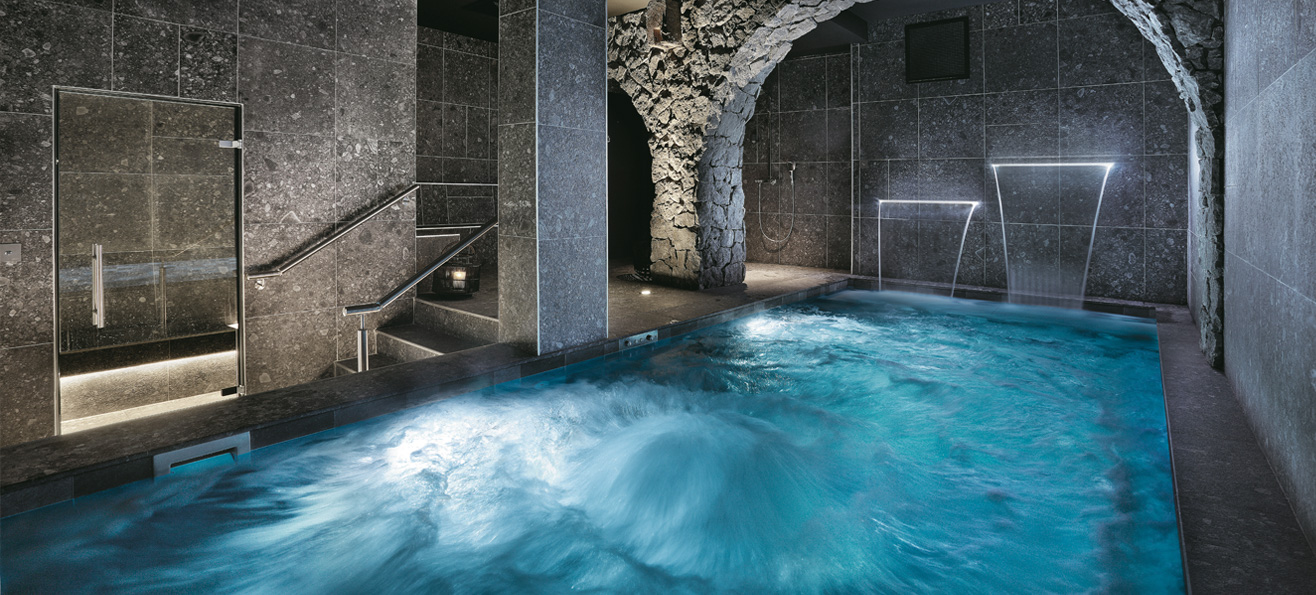 For any edge, the ideal solution.  

Skimmer, Finnish or Invisible Grille?
The BLUE solutions have various types of edges and special pieces for the swimming pool world. Moreover, to support all your projects and wishes, the Mirage Engineering Division can provide a highly qualified technical and style consulting service for any custom requests.
Devotion and innovation, because designing the ideal solution for you is a challenge that drives us continuously in our work, allowing us to grow and improve every day.
 
01. Swimming pool with Skimmer Edge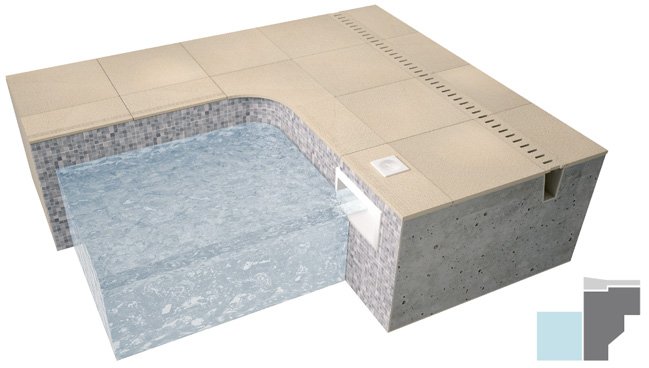 This is the traditional system, where the water is 10-15 cm (4"-6") lower than the edge of the pool.
02. Swimming pool with Finnish Edge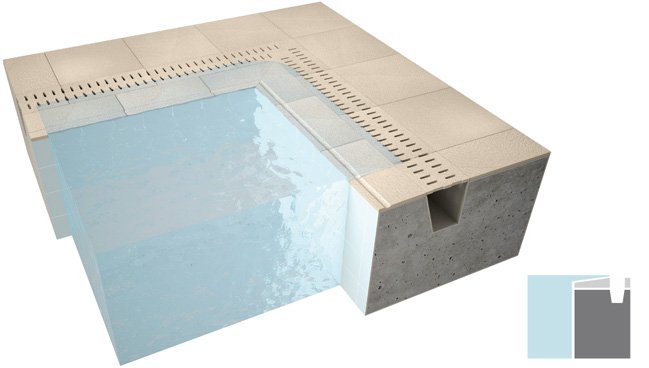 This is a deck-level overflow system, where the water flows over the edge of the pool and is collected in a conduit.
03. Swimming pool with Invisible Grille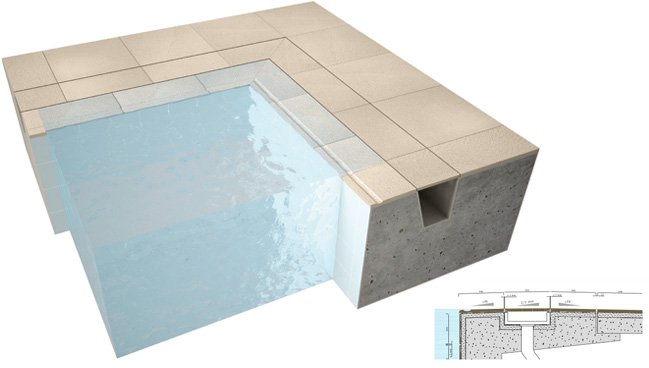 The invisible grid is a new solution patented by Mirage® for recycling water at the poolside. This grid has slots at the side for the passage of water, which are not visible once installed.
The advantages this grid has over the classic stoneware grid with slots on the surface:
Improved impact resistance;
Blends in perfectly with the rest of the material laid (only two 5 mm slots are visible at the side of the grid);
Can be perfectly centred, thanks to the splayed edges;
Saves money.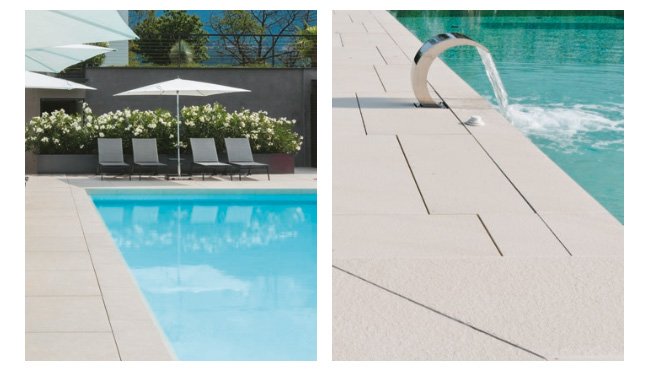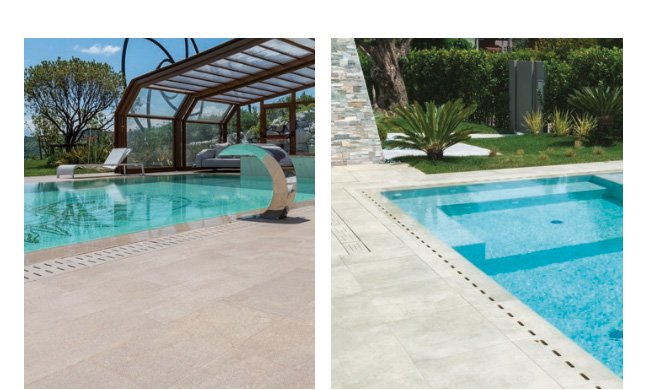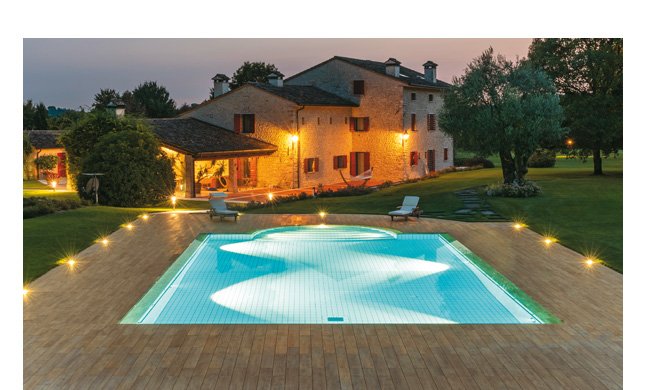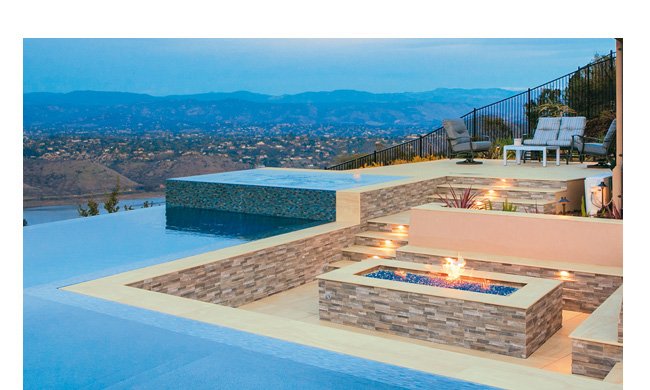 Special pieces
The programme of accessories for swimming pools includes a rich variety of elements perfectly coordinated with the paving.
Discover our swimming pool portfolio
---